Thomas Jefferson and Coexist Build develop biodegradable bioplastics
Jacob Williamson-Rea
Sep 1, 2022
The hemp plant is a sustainable, renewable source of material with a host of industrial and consumer applications. Currently, hemp is underutilized as a raw material in the US due to nearly a century of laws and policies prohibiting, or severely limiting, its industrial use. Since these laws and policies have changed, the use of hemp as an industrial raw material will continue to increase in the US due to our interest in sustainable, high-value consumer and industrial products made from renewable resources.
One of the most promising uses of hemp biomass is as a biodegradable reinforcement in bioplastics, producing a reinforced composite material that decomposes over time. The challenge is to develop composite compositions that demonstrate good mechanical and physical properties to allow them to be use in a wide range of consumer and industrial applications. 3D printing is often used to rapidly prototype composite part designs before metal molds are cut to mass produce large quantities through injection molding. To facilitate the design and manufacture of hemp-reinforced bioplastic composite parts, one must first understand the relationship between the performance of a 3D printed prototype and the performance of the injection molded final part in these novel materials.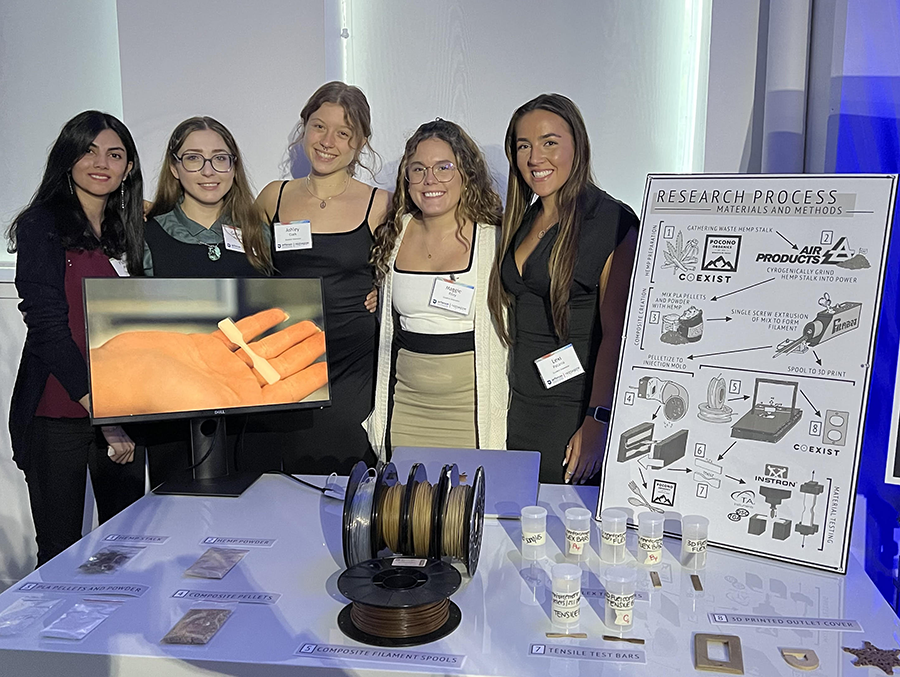 "Throughout the field, people are very interested in making plastic parts in a more sustainable way," says Ronald Kander, Associate Provost for Applied Science at Thomas Jefferson University. "One way to accomplish this is to use biodegradable or compostable polymers, but those materials often need to be reinforced with fibers to make them strong enough or stiff enough for actual applications. We've been looking at hemp as a sustainable and cost-efficient natural fiber that could be incorporated into biodegradable polymers to make industrial and consumer parts that have a more positive life cycle that would be both environmentally and economically favorable."
Thomas Jefferson worked with Coexist Build, based in Blandon, PA, to identify several of these hemp/bioplastic composite compositions, building upon prior collaborations. These compositions were produced and transformed into representative composite parts using laboratory-scale compounding, 3D printing, and injection molding capabilities at Jefferson. The team selected representative parts primarily from the construction/building industry (outlet covers, switch plates, junction boxes, etc.). Resultant parts were then tested to measure mechanical and physical properties to better understand the performance relationship between 3D printed prototype parts and injection molded parts made from hemp-derived biodegradable composite materials.

"The construction industry is really moving in this direction," says Drew Oberholtzer, Co-Founder and Partner of Coexist Build. "This is the fastest growing section of the industry. Having the foundation of creating a raw material from hemp stock is really important. The whole team in general has been great–it's been enjoyable to watch how the Thomas Jefferson team approaches processes and problems. It is fascinating to have an opportunity to watch them work through that process of turning a hemp stock into better products."